Description
Characteristics:
Led type: Create XHP70
Number of LEDs: 1
LED power: 30W
Battery Type: 26650 Li-ion
Battery capacity: 4000 mAh
Housing material: aluminum
Protection class: IP65
LED lifespan: 50,000 hours
Light intensity: 3000 lumens
Range: Up to 520 m
Dimensions: 55 x 234 mm
The package includes:
1 flashlight
Battery charger
2 x 4000mAh batteries
Additional wired switch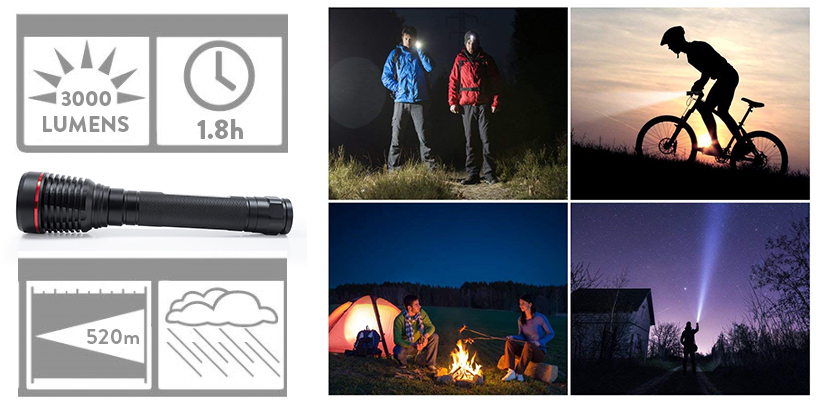 Portable, performance, reliable
PNI Adventure F30 is a medium-sized torch made of aluminium alloy specially designed for those users who need a flashlight with high performance in military, police, hunting, search. The flashlight has a very bright light, illuminates at a very long distance, has an ideal beam, and a perfect distance. The maximum torch intensity is 3000 lumens and the maximum illumination distance is 520 m.
The rechargeable PNI Adventure F30, high power LED is extremely versatile. This flashlight can be used both in professional activities (airport, factories, shipyards, car service etc.), professional tactical activities (guard and protection, police, army, rescue, smuggling, rescue, etc.) , camping, hiking, tent, house, car etc.).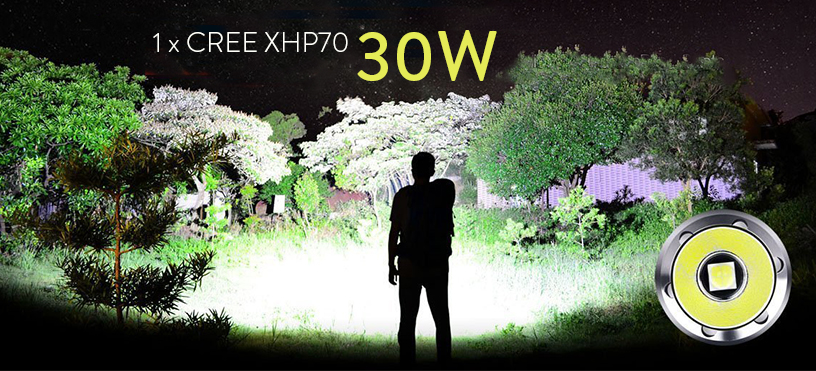 Tactical torch, 3 phases, wired switch included
The tactical flashlight of the PNI Adventure F30 comes with a newly developed queue switch; simply press the button to switch to one of the three modes, the high-medium-off, strobe and dim (decrease light) levels. The torch is equipped with a 30W Cree XHP70 led with a high efficiency circuit. The kit includes two Li-Ion 26650 4000mAh batteries that offer up to 1.8 hours of extended battery life, a dual desk feeder and an additional wired remote control for remote flash control.